The UK's leading childcare insurance specialist
Important information
COVID-19 Update
Our teams are working hard to respond to your queries. To help reduce the volume of calls and speed up a response from our Customer Service team please email us at enquiries@mortonmichel.com and we will respond as quickly as possible.
If, as a result if coronavirus (COVID-19), you are experiencing temporary financial difficulties and/ore may have difficulty with future premium payments, please contact our team on 0330 058 9861.
We will discuss your situation with you to establish if there are any measures which can be taken which may assist you at this time. Please note this applies to clients who deal directly with ourselves, if your business is placed with us via a different insurance broker, you should contact that firm.
For more information, useful resources, guidance, and FAQs relating to COVID-19, please visit our COVID-19 updates page.
Covéa customers: Following the recent Supreme Court Decision on COVID-19 Business Interruption losses, we have pressed insurers for a response and have received the following insurer statement from Covéa on their position – more information.
AIG customers: Following the Supreme Court judgment on the FCA Test Case, AIG has released an interim update and Q&As, which can be read on their website - more information.
Ansvar customers: Ansvar has released a clarification about premises which are unoccupied due to lockdown - more information.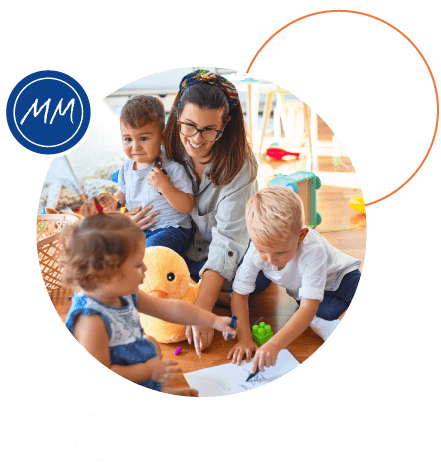 About us
Established in 1964, Morton Michel has been trusted by childcare professionals for over 56 years to provide insurance, risk management and service solutions tailored specifically for the childcare and education sectors.
Our expertly designed products draw on this experience providing specialist cover and a business support package and a comprehensive range of employee benefits and discounts to support your business, staff and the children you care for.
Specialist insurance cover for the childcare and education sectors
Morton Michel ChildCare Club Benefits including flick Learning do not form part of the FCA regulated products. These are provided as additional services.
Need to speak to a member of the team?
To discuss a new or existing policy, you can get in touch with our team:
Phone: 0330 058 9861 (9am – 5pm, Mon – Fri, excluding bank holidays)
What our customers say;
We pride ourselves on delivering a personal service to help protect your business. You don't have to take our word for it though, check out some of our independent reviews to see what our customers have to say! If you'd like to leave your opinion, good or bad we encourage you to submit a review too.
See what's happening on our social channels