The UK's leading childcare insurance specialist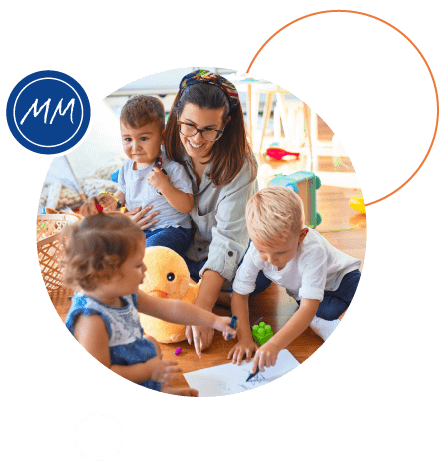 About us
Established in 1964, Morton Michel has been trusted by childcare professionals for almost 60 years to provide insurance, risk management and service solutions tailored specifically for the childcare and education sectors.
Our expertly designed products draw on this experience providing specialist cover and a business support package and a comprehensive range of employee benefits and discounts to support your business, staff and the children you care for.
Please note: In the upcoming months we will be contacting any Morton Michel policyholders that have yet to send us confirmation of their Employers' Reference Number (ERN). An Employer Reference Number is given to every business registered with HM Revenue and Customs (HMRC) as an Employer. It is a unique number used by the tax office to identify your business and is referred to on tax forms (P45, P60) and pay slips as an Employers PAYE Reference. Insurers require this information for entry onto the ELTO database, which identifies the appropriate insurer in the event of an Employers' Liability claim.

We ask that our policyholders contact us within 7 days of receiving their email or letter to confirm this information. Don't worry, this won't affect your policy, but you will receive another notification until we receive the required ERN Number to ensure that we have all the information we need in the event of you wanting to make a claim.
Specialist insurance cover for the childcare and education sectors
Morton Michel ChildCare Club Benefits including flick Learning do not form part of the FCA regulated products. These are provided as additional services.
Need to speak to a member of the team?
To discuss a new or existing policy, you can get in touch with our team:
Phone: 0330 058 9861 (9am – 5pm, Mon – Fri, excluding bank holidays)
What our customers say;
We pride ourselves on delivering a personal service to help protect your business. You don't have to take our word for it though, check out some of our independent reviews to see what our customers have to say! If you'd like to leave your opinion, good or bad we encourage you to submit a review too.
See what's happening on our social channels