About us
Specialist insurance for the childcare sector
About Morton Michel
Established in 1964, we pride ourselves on delivering high quality insurance, risk management and service solutions tailored specifically for the childcare and education sectors.
Our knowledge, expertise and longevity within the early years sector enables us to provide you with flexible insurance products and services and a package of additional benefits, training and discounts to support you, your staff and children, no matter how large or small your business.
Our dedicated team understands the every-day challenges you face and endeavour to assist you in providing the assurance you need.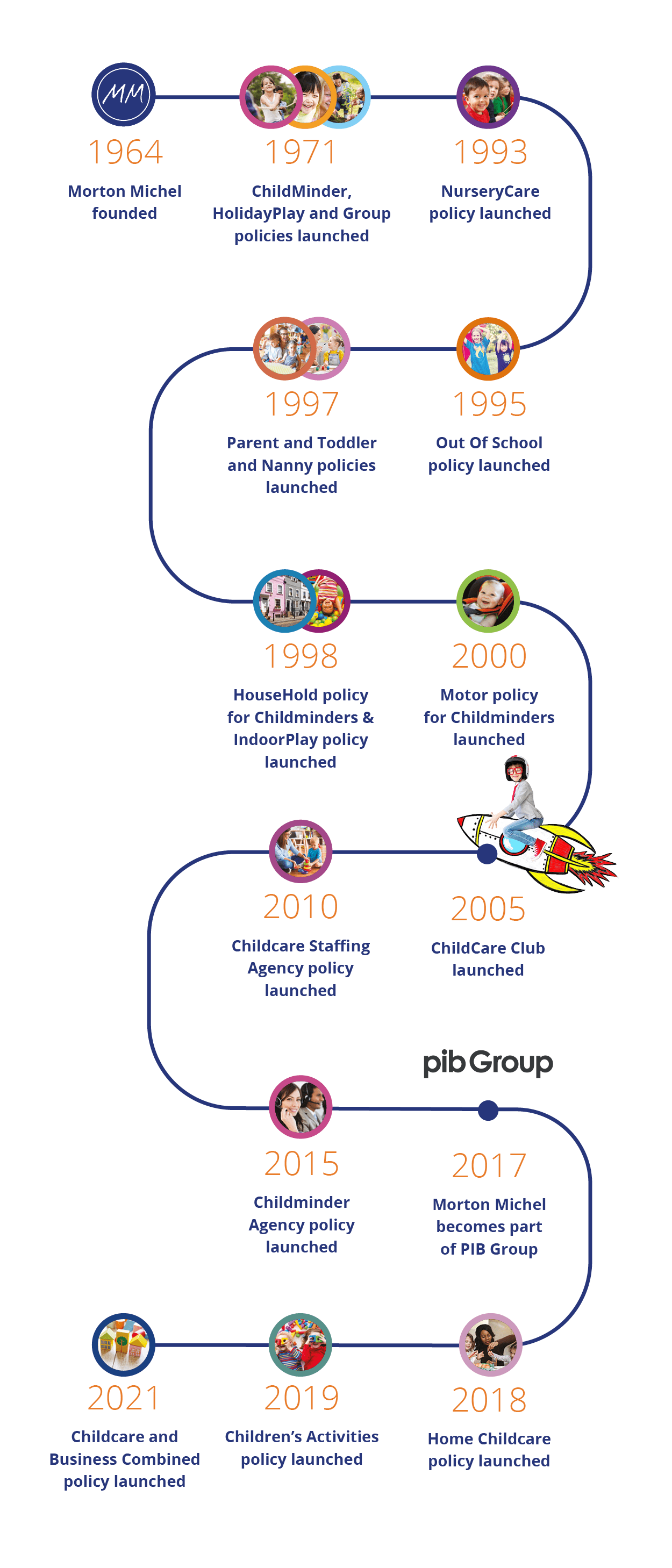 Our history
Morton Michel was established in 1964 by David and Kathy Beere. Whilst raising a young family, they realised that it was virtually impossible to obtain insurance because the mixture of toddlers, water, paint and church halls sent shudders down the spines of most insurers!
As David already worked in insurance, the owner of the playgroup approached Kathy for advice. Kathy took the query to David, who then set up a specialised insurance scheme that was specifically tailored to the needs of playgroups.
Morton Michel enjoyed steady growth over the years and as new childcare ventures began, the business expanded to provide cover for them too. Morton Michel was the first company to offer insurance for registered childminders, nannies and many more.
David and Kathy's children, Nick, Jerry and Samantha, helped out in the office as they were growing up and one by one they all joined the family firm.
Kathy retired from the firm on her 70th birthday in 2004, and David retired in May 2005, while Nick, Jerry and Samantha remained directors of Morton Michel until 2017, dedicated to continuing the business with the same ethos of hard work and good customer service established by their parents.
Morton Michel today
On 1st September 2017, Morton Michel Ltd became part of the PIB Group. PIB offers investment in our people, products, processes and online services to ensure that the business can continue to meet all the challenges of the ever-changing childcare and insurance industries.
We continue to provide specialist childcare insurance solutions with a professional and friendly approach delivered by our expert team and have now been doing this for over 56 years!
We have seen many changes since 1964, but some things never change - such as Morton Michel's integrity and reliability. Insurance is a dynamic and highly competitive sector, and we are proud to have gained a reputation as one of the UK's leading childcare insurance specialists, offering a wide range of insurance policies both to individuals and business clients. This was recognised in 2016 when we won Specialist Broker of the Year 2016 at the Commercial Insurance Awards!
Morton Michel Ltd is registered in England and Wales No. 5120835. Registered Office Rossington's Business Park, West Carr Road, Retford, Nottinghamshire, England, DN22 7SW. Morton Michel Ltd. VAT Registered Number: 249 7853 50. All correspondence for Morton Michel Limited should be addressed to Morton Michel, 6th Floor Knollys House, 17 Addiscombe Road, Croydon, Surrey, CR0 6SR.
Morton Michel is registered under the Data Protection Act.