Childcare Marketing Communication Strategy
The chances are if you've found your way here, you're interested in growing your childcare business and you're looking for tips and tricks to expedite this process! Well, you've come to the right place! At Childcare Marketing, we love to share our years of experience in the childcare sector to help childcare businesses with a desire for growth. In this blog I will be focusing on formulating a coherent, effective communication strategy that fits the needs and wants of your childcare business. Firstly, it's integral to understand what you are trying to achieve from your marketing communications. Below is a list of different communication objectives that you may want to pursue:
Establishing brand awareness- To increase the number of potential customers for your business. This is the first stage of the sales funnel, the more awareness your brand has, the more likely you are to receive more paying customers.
Developing a positive brand attitude- To improve the positive word of mouth surrounding your business which in turn, improves both your brand loyalty and trust.
Stimulating purchase- To increase the number of people making a purchase/ signing up.
Facilitating purchase- To make the purchasing/ signing up process easier therefore increasing the likelihood of a purchase.
Building loyalty- To increase the likelihood that current customers will stay with you and will lead to free advertising opportunities within your loyal customer group.
Building trust- To improve the chance of a purchase and reduce the chance of current customers looking elsewhere in a fiercely competitive market.
Take a moment to evaluate your business. Which of these areas would your business benefit from the most at this current moment? At which stages of the sales funnel below do your biggest problems lie? The sales funnel diagram may help you identify at which stage your business requires the most attention/improvement and therefore, point to how your business should aim to communicate its brand.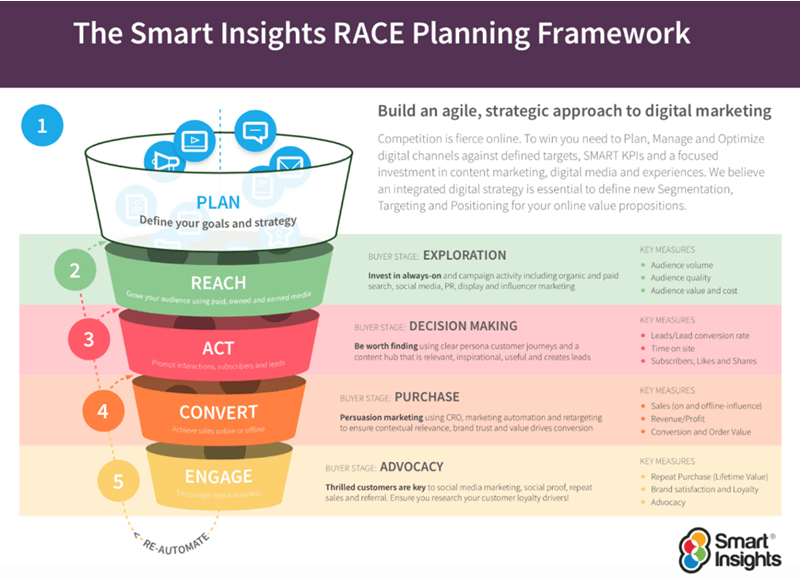 For example, it might be that your business struggles to reach enough customers. In this case, your communication strategy may be centred around improving your brand awareness. Alternatively, the initial interest may not be the problem, it may be that your business struggles to persuade people that your business is the best choice for them and then actually convert them into paying customers. In this case, your communication strategy may be focused on stimulating and facilitating the purchase of your product/service. Finally, if your problem is that you have a high customer turnover, i.e., your customers don't stay with you for very long, it be a good idea to try and build loyalty and trust with your marketing communications. Although it is wise to focus your communication on the area that requires the most attention, it's important that you still cover all bases. It's good to have a well-rounded communication strategy with particular emphasis on different aspects that need major improvements. This can be achieved by having a varied approach to how you communicate your brand.
Now that we've spoken about your marketing communications objectives, let's talk about techniques for actually achieving these. As mentioned above, it's a good idea to have a varied focus, meaning that even if the technique isn't in line with your objective, then you should still consider applying it. Let's firstly talk about improving your brands awareness. This is all about utilising your website and social media platforms by using engaging language and methods. Building awareness is all about the quality of your content. By choosing an effective brand voice that grabs the attention of your audience and makes an impression on your target market, you can improve your brand awareness. Other methods for improving awareness include hosting competitions, writing blogs and/or using paid media options (childcare newsletters, paid advertising and/or SEO).
The techniques for developing a positive brand attitude and building trust are similar so I will tackle these points together. One technique for this is by using the public relations communication tool. Public relations can be described as a planned and sustained effort to establish and maintain goodwill and mutual understanding between an organisation and its customers. For example, partnerships with companies and organisations or taking part in schemes that have beneficial outcomes on the environment, children and/or wider society. This should be communicated powerfully on your social media platforms, building a positive relationship with your customers. Another key technique for developing a positive brand attitude and building trust is through using reviews and testimonials in a compelling way. Reviews and testimonials give your brand legitimacy and are an incredible tool for improving your customers brand attitude and trust.
Again, both the stimulating purchase and facilitating purchase objectives have similar techniques for achieving them so I'll tackle them in unison. The main way to accomplish these objectives is by successfully using calls to action. A call to action is an invitation to act. For example, you may want parents to sign up to your nursery so a call to action would be a line that compels a parent to sign their child up. Advertising the sign up form on social media or via your website is one way to do this. Facilitating their purchase is all about making the process of signing up as easy and efficient as possible so that it doesn't deter potential customers. The overall customer journey is another factor that would stimulate and facilitate the purchase of your product/service.
Finally, building loyalty can be achieved through consistent and effective communication on all platforms. Making the content personal and engaging with your customers will ensure that your customers stay loyal to your brand, encouraging them to repeatedly purchase your product/service. Although I haven't been able to cover many techniques or go into much detail on the techniques that I did cover, this blog should give you a good place to start with creating your own childcare marketing communication strategy. If you can see the benefits of creating a well thought out communication strategy but you don't have the time/would rather focus on other areas of your business, then don't hesitate to get in contact with us! In a free consultation we will analyse your current situation, formulate a strategy, and get started with applying it. At Childcare Marketing, we ignite business growth.
Morton Michel policyholders – don't forget that Childcare Marketing offer you a complete free marketing consultation, 25% off their marketing support solutions, and a fully SEO-optimised bespoke website for £30 per month as part of our ChildCare Club!
The information in this article is provided by Childcare Marketing and does not represent Morton Michel.