Seven reasons why every teacher should master active experiential learning
Active Experiential Holistic Learning is the KEY to Future-Oriented Education and to addressing current global challenges.
Everything that children learn needs to happen in REAL LIFE - not in course books, worksheets, or on screen only.
Future-Oriented Education is about nurturing Life Skills - creativity, collaboration, reasoning, bodily awareness, positive self-image, problem solving, relationship building, and adaptability.These skills are nurtured through real-world experiences and through an authentic connection with the world around us. And only this will help our children succeed in the future - no matter the times and external circumstances.
Todays educators can offer Future-Oriented Education - providing that in their everyday practice they navigate towards Active Experiential Holistic Learning.
Here are 7 reasons why Active Experiential Learning is the Key Skillset for all teachers to focus on right now:
The world is starting to realise that the outdated mode

s

of

teaching are

no longer effective and do not bring desirable results any more.

Many p

arents and educators

are

start

ing

to understand that passive academic-oriented learning is not enough to prepare children for the future in these uncertain times.

More and more p

arents are becoming more conscious and more demanding as to

HOW

learning is offered, and they no longer wish for their children to be overwhelmed with worksheets, course books, and academic-based

activities

. They expect educators to be able to use Active Experiential Holistic Learning much more often

, if not all the time.

More and more Early Years

Leaders

are

look

ing

for teachers who can offer much more than pen & paper activities. They

prefer to hire passionate educators

who know how to use the most effective educational approaches in their everyday practice, and who know how to make learning exciting, meaningful, and leaving long-lasting results.

Very few educators on a global scale can effectively implement Active Experiential Holistic Learning on a daily basis. This means that when you master it, you will join the group of highly skilled and very sought-after Educators of the Future.

Once you master Active Experiential Holistic Learning, you will feel very confident about planning, delivering, and evaluating truly engaging learning experiences that are fully aligned with

the EYFS framework

and the goals of Future-Oriented Education.

When you implement Active Experiential Learning in your setting correctly, your daily workload related to planning and delivering meaningful learning experiences will get reduced significantly, and even put on autopilot.

Even though many

teachers

are now under the spell that technology is the future of learning, world's top educators know it's not true. They realise that it's not technology that teachers need to master. Educators of the Future need to be able to use technology as well as any other tool to offer

Active Experiential Holistic Learning effectively.

Active

Experiential

Learning is not yet another trend. It's the ever-green and one of the most powerful educational approaches that will never go out of fashion. And because it's based on the Universal Laws of Natural Learning, it always accelerates children's

holistic

learning

and balanced development

- and this will never change. So, once you master Active Experiential Holistic Learning, you can be sure that your skills will stay with you forever, and that you will be able to offer high quality education

,

regardless of times and current trends.
This is exactly why Magdalena Matulewicz and Witold Matulewicz, Founders of Natural Born Leaders, have designed ACTIVE LEARNING BOOSTER. It's a self-paced hands-on online training programme for Early Years Practitioners and Primary Teachers who are ready to offer Future-Oriented Education based on the Active Experiential Holistic Learning approach that works for every child and for every educator!
Magdalena and Witold have been working with this approach for over 20 years - both in early years and primary education. They have trained lots of nurseries and schools where dedicated teachers successfully have been using Active Experiential Holistic Learning on a daily basis.
During ACTIVE LEARNING BOOSTER training programme you will understand that Active Experiential Learning is not about what you have or can buy, but HOW you can use what is already available to fully support your children's life-long learning and balanced development.
So when you complete the programme, you will be able to use any resources that are available to you locally, and use them to maximise Experiential Learning opportunities for all children under your care. You will become an empowered, self-reliant, and tool-independent Educator of the Future!
This means that regardless of your location and access to educational resources or funds, you will be able to offer Active Experiential Holistic Learning at the highest level!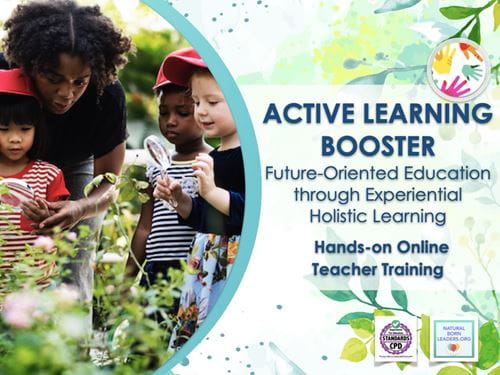 Exclusive Discount for Morton Michel Policyholders!
Natural Born Leaders provides all Morton Michel policyholders a 25% discount to their ACTIVE LEARNING BOOSTER programme.
To redeem your exclusive discount, on the programme webpage choose a number of licences you would like to purchase, click on the Add to Basket button and apply the discount code MM25ALB to claim your 25% off. Click here for more information.
Please direct all of your questions regarding the Active Learning Booster to Witold from Natural Born Leaders at info@naturalbornleaders.org.
The views and information in this article are provided by Natural Born Leaders and these views do not represent Morton Michel.